The common stereotypes of liberals and conservatives are that liberals have no brains, and conservatives no hearts. To some extent, these are true.

Of course, I can immediately think of a thousand exceptions to each generalization. Daniel Patrick Moynihan, for example, was a brilliant liberal. And Barry Goldwater was a radical conservative with miles of heart. Some of my liberal friends are geniuses. Many of my Republican cohorts are close to bleeding hearts, like me.
You Can Thrash the Hell Out of Me In a Comment Here
I want to Concentrate on Present-Day Conservatives
They have no
H
eart


as evidenced by their immoral stand on opposing the extension of unemployment benefits for the nation's victims of our recession (Depression). For example, one of my heroes, Rush Limbaugh, is positively bare-knuckle Darwinian on this issue, even Roman sadistic. He can spend half a broadcast attacking Obama because he has created a near collapse of the economy, with it being nearly impossible to find a job. Then, he literally laughs at the unemployed, calling them lazy freeloaders.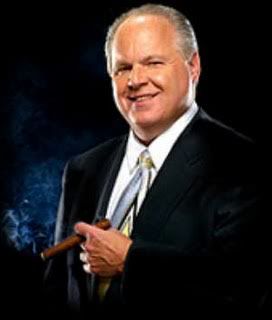 Of course, he let it slip on his radio show one day when I was listening, that when he was unemployed, he lived off his parents for an extended period of time. Lazy, good-for-nothing hobo! Much like Beck, who was surviving unemployed as a drunk in the back of his car. I guess sleeping in that vehicle was the origin of Beck's paranoia.

Sometimes the often-brilliant Rushbo doesn't have a brain. He's had a stroke that day, or year, in the compassion area, and also in the logic region of his cortex. You can't have it both ways, Rush. Either anyone can find a job if they look hard enough, or the economy is so bad that many simply cannot obtain employment. Which is it?

Plus, I contend, that among the unemployed are many over 50, who have the hardest time getting rehired, the marginally sick, the marginally retarded, and the socially challenged. And, surprise surprise, there are thousands with advanced degrees who can't find work, and other "over-qualifieds." All of whom continue to desperately try for new jobs, but who face the mountain of competing with younger, healthier, more- or less-qualified (you heard me) applicants who outnumber them 5 to 1. Add to this the fact that employers hesitate to hire the long-term unemployed. It's literally a jungle out there. Republicans, like Rush, don't have a brain on this issue, and no heart.
I'm for an Active Conservatism
Some of my beliefs are:
Republicans, Now and Forever
need to fight for the rights and well being of every American. They should not foster dependence on government handouts, but they can actively pursue market-based solutions for all the problems that bother society.
Homelessness
For example, conservatives ought to actively pursue and promote market-based solutions to homelessness. Instead of just saying "Lower taxes and the market will take care of it," they need to go a thousand steps further, and develop capitalistic solutions for this blight. Yes, I agree, some people will wind up back in the streets no matter what society does for them, but that doesn't apply to everyone.
Christmas for Depression Era Homeless
Give a Man a Fish
Give a man a fish and you feed him for a day. Teach a man to fish and you feed him for a lifetime.
Chinese Proverb
Sermon on the Mount
This saying is oh so true. Republicans believe in the first part. They cheer snatching away the fish, even from all the people at the Sermon on the Mount. I think that's okay, notwithstanding Jesus' opposite example. (Yes, he GAVE people fish.)

What I disagree with, regarding Republicans, is they also absolutely neglect the second part of the adage. They don't believe in teaching a man/woman to fish. They desire, rather, a do-or-die Darwinian survival of the fittest. The industrious, they know, will survive. The rest, who cares?

My problem with this is, yes, Darwinism does focus the minds of the underachievers—but among them, again, are the old, the ugly, the socially inept, and even hard-working capitalists who've bet on the wrong idea.
Teach These People to Fish, for God's Sake!
Give them a time-limited opportunity to get back into the current of life. Don't instruct them to swim by throwing them into the rapids, where they must struggle to breathe, let alone fish.

If you're really going to be smart, give the woman a fish, a fishing rod, a manual, and a guide. She'll soon be a fisherwoman if she has the talent, and then she can be a guide. By the way, this is what the rich do for their offspring all the time.
Don't Fall In While You Fish Here
What is Missing, Is Another Capitalistic Ideal, Investment
Republicans believe in "investment" in small businesses, new issues in the stock market, loans to new enterprises, lending for companies to meet their payrolls … but not in investment in individuals, in people during hard times, nor even in capitalists who've failed and want to try again. They believe in deficit spending for war, for people buying homes with mortgages, and for going to university. They do not love deficit spending for other worthwhile things, like keeping Grandma from begging on a street corner.
Unemployment Benefits
I do argue that extending unemployment benefits is an investment. It is not welfare. These people have been working all their adult lives, many of them successfully, paying taxes, and into the unemployment insurance program. It is insurance, not a handout. It is also an investment. Millions of these on unemployment now will go on to create their own businesses, find new jobs, and become sources of tax revenues in the future, helping the next group of unfortunates.

And, those who will never recover, who will forever remain unemployed, at least will get some time on this Earth without worry. They will be able to pay their bills, buy food, and keep their house or rental. This is an act of charity. So what? Aren't Republicans proud of their charitable giving? It is not a sin to give people fish. It is also not a sin to help them learn to fish.
Republicans are Characterized as the Party of No
Because, at this moment in time, they are. This needn't be the case.

They must get off their butts and come up with solutions to society's difficult problems. Their ideas ought to be business friendly, deficit neutral, tax cutting, and revenue enhancing, but the market alone will not take care of everything. The market requires help from the ingenuity of hard-working, brilliant people with good values.

The welfare state, and socialism, are definitely not the answers. But neither is pure economic Darwinism. I propose an activist conservatism, and yes, a passionate conservatism, hard-nosed but full of heart.
Your Comments are Welcome

Here
Have a great day!

&nbsp&nbsp&nbsp&nbsp&nbsp&nbspRock

Technorati Tags for this post: Daniel Patrick Moynihan, extension of unemployment benefits, Rush Limbaugh, Darwin, Roman sadism, Glen Beck, Iran, Ground Zero, Middle East, Sermon on the Mount, Jesus, unemployment insurance program, welfare state, socialism

Regular Technorati Tags for this blog: politics, political, politically incorrect, no spin, conservative, Republican, right wing, liberal, Democrat, left wing, leftist, democracy, election, peace, war, Barrack Obama, Sarah Palin, Tea Party, editorial, opinion, news, current affairs, media, television, television, Hollywood, books, culture, society, religion, God, fundamentalism, Christian, Catholic, Muslim, Jew, Israel, Palestine, blog, truth, Truth—the No Spin Politically Incorrect Zone, The Truth Zone of Combat